Panasonic Automotive's award-winning ELS STUDIO 3D® PREMIUM AUDIO Reimagined for the Fisker Ocean Blends Best-in-Class Audio Performance with Sustainability-focused Design
LOS ANGELES, Nov. 17, 2023 /PRNewswire/ -- Panasonic Automotive Systems Company of America, a tier-one automotive supplier and division of Panasonic Corporation of North America, announces with Fisker Inc. (NYSE: FSR) the launch of the Fisker Pulse audio system powered by ELS STUDIO 3D® on the all-new 2023 Fisker Ocean Extreme and Fisker Ocean One. Specially designed to promote sustainability and high performance, the ELS STUDIO 3D system features 15-high performance speakers and brings Panasonic's studio quality sound to the all-electric Fisker Ocean SUV described as "The World's Most Sustainable Vehicle."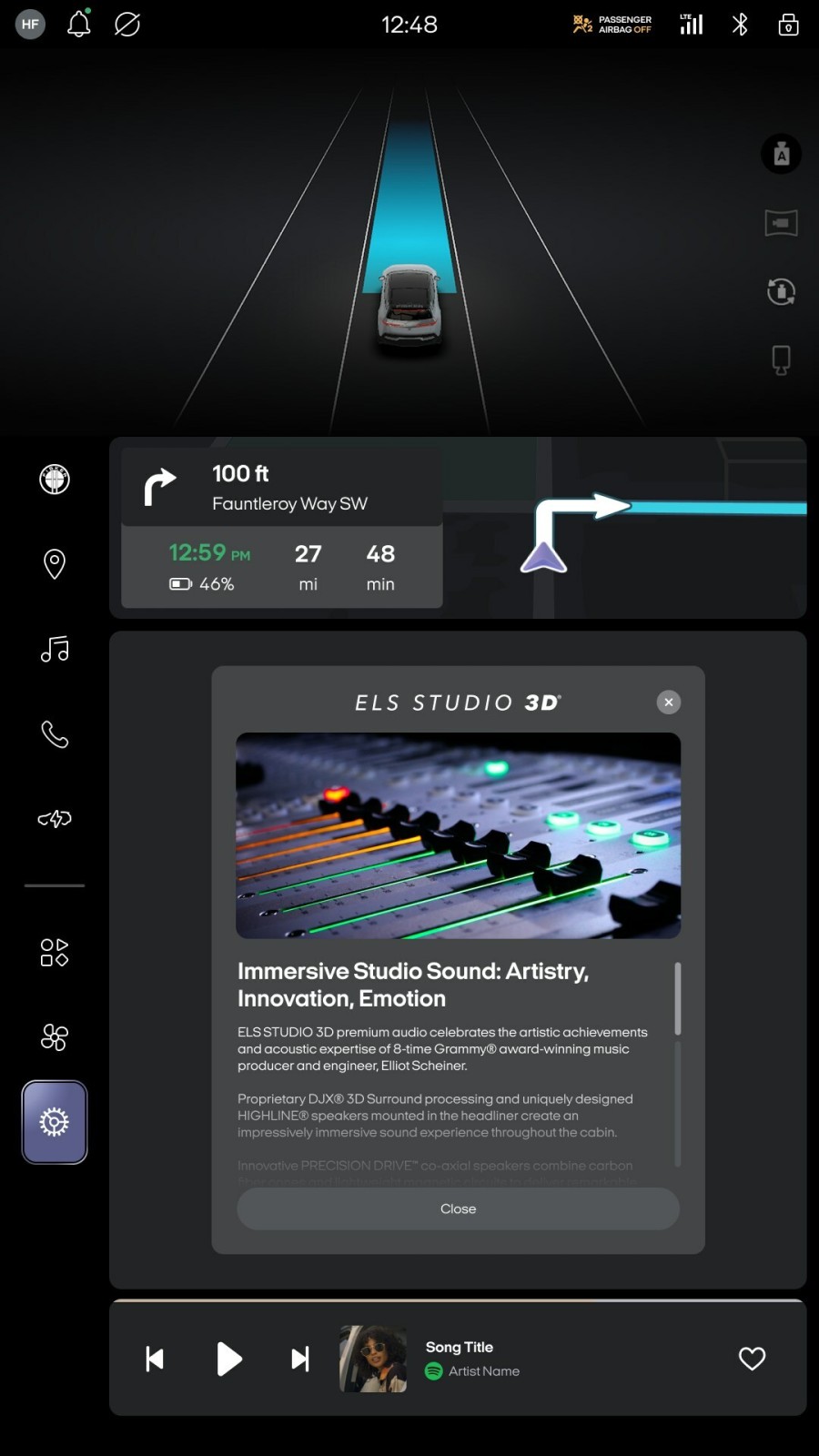 Panasonic Automotive has decades of experience and a broad portfolio of technologies supporting the electrified vehicle programs of global vehicle manufacturers. Neodymium magnet circuit designs are used to reduce the overall weight of each individual speaker by 30-60%. It is estimated that the ELS STUDIO 3D® PREMIUM AUDIO system draws up to 60% less energy than a typical audio system with similar acoustic output, extending the vehicle driving range.
Panasonic Automotive strategically approached the design to create a studio experience unique to Fisker. Installed along the instrument panel are three 9cm PrecisionDrive® Carbon Fiber Coaxial speakers, artfully hidden beneath Fisker's sustainable interior materials for a clean visual effect without sacrificing the remarkable clarity of the vocals and instruments.
Four ultra slim, lightweight, full-range Highline® speakers mounted in the headliner work together with Panasonic Automotive's proprietary DJX® 3D Surround algorithm to create an immersive sound experience throughout the cabin that places the listeners in the center of the performance without compromising fidelity or accuracy.
Four 17cm PrecisionDrive® Carbon Fiber woofers provide stunning bass with low distortion. The 20cm SLDD subwoofer creates the powerful, deep bass response that brings the music to life.
The vehicle's ELS STUDIO 3D system produces sound quality similar to a recording studio and celebrates the highest level of performance validated through the discriminating ears of eight-time Grammy® Award winning recording engineer & producer, Elliot Scheiner.
"Fisker is pushing the industry forward with a vision focused on sustainability, and Panasonic Automotive is honored to join in building the future of Fisker electric vehicles," said Andrew Poliak, chief technology officer, Panasonic Automotive Systems Company of America. "With decades of experience, our audio design team worked closely with Fisker to bring a new approach to speaker placement, creating an emotional audio experience for EVs, focused on efficiency and sustainability without sacrificing the authentic studio quality sound and emotional impact that are the foundations of all ELS STUDIO 3D® systems."
"The newest iteration of the ELS STUDIO 3D® PREMIUM AUDIO is the result of a shared creative vision between Fisker and Panasonic Automotive technical teams," said Matt DeBord, senior director communications, Fisker Inc. "With Fisker's unique vehicle build designed with over 100 lbs of recycled and bio-based materials, a super-clean and modern interior, and ELS STUDIO 3D's sustainable approach to audio engineering - we created a system that maxes out its capabilities and delivers a unique, high-quality sound experience while staying true to our performance and sustainability goals."
About ELS STUDIO 3D
For more than 20 years, Panasonic Automotive, working together with 8-time Grammy® Award-winning producer and engineer Elliot Scheiner, has designed, engineered and manufactured award-winning audio systems for a variety of vehicle styles. Panasonic has created and patented several proprietary technologies found on ELS STUDIO 3D® premium audio systems including twin Telford® subwoofers, Highline® Ultra Slim speakers, Super Dynamic Range (SDR) speakers with extended range to eliminate distortion and the innovative Acoustic Motion Control™ circuitry and the innovative DJX® 3D Surround algorithm.
This all-new system on the 2023 Fisker Ocean includes 575 watts of power, 15 speakers, a 19L subwoofer enclosure, and one of the most effective 6-speaker dashboard arrays in automotive audio. The system is uniquely designed for the Fisker Ocean Extreme and the Fisker Ocean One launch edition.
About Fisker Inc.
California-based Fisker Inc. is revolutionizing the automotive industry by developing the most emotionally desirable and eco-friendly electric vehicles on Earth. Passionately driven by a vision of a clean future for all, the company is on a mission to become the No. 1 e-mobility service provider with the world's most sustainable vehicles. To learn more, visit www.FiskerInc.com – and enjoy exclusive content across Fisker's social media channels: Facebook, Instagram, Twitter, YouTube and LinkedIn.
About Panasonic Automotive Systems Company of America
Panasonic Automotive Systems Company of America is a division company of Panasonic Corporation of North America and is a leading global supplier of automotive infotainment and connectivity system solutions. Panasonic Automotive Systems Company of America acts as the North American affiliate of Panasonic Automotive Systems Co., Ltd., which coordinates global automotive. Panasonic Automotive Systems Company of America is headquartered in Peachtree City, Georgia, with sales, marketing and engineering operations in Farmington Hills, Mich. For more information on Panasonic Automotive, please visit: https://na.panasonic.com/us/automotive-solutions