The plant-based food trend is growing exponentially among both consumers and investors. Analysts estimate that the total addressable market for this growing industry could leap to US$7.78 billion by 2025 and more than $150 billion by 2030.
Leading the way are innovative companies rapidly developing and releasing new products, ranging from plant-based meats to non-GMO bean-based snacks.
Interest in plant-based stocks is also exploding as investors seek out new ESG opportunities to invest in a greener future. Here are the top 5 plant based stocks that investors are watching the closest in 2022:
1. Boosh Plant-Based Brands Inc. (OTCQB: VGGIF) (CSE: VEGI)
Boosh Plant-Based Brands provides consumers with non-GMO, gluten free and 100% plant-based nutritional comfort foods. The company currently offers 24 plant-based SKU's sold throughout Canada
Boosh's product lineup currently features six different 100% plant-based, heat and eat family-oriented entrees and meals.This includes Single-Serve Bowls or sharable Entrées for two, including Coconut Curry Cauli Bowl, Veggie Bolognese Bowl, Mac & Cheeze & Peas Bowl, Mexican Fiesta Bowl, Rustic Veg Pot Pie Entrée, and Hearty Shepherd's Pie Entrée.  
The company recently made big waves in the market when it announced that it had executed a purchase agreement to acquire the majority of assets of Beanfields Inc. 
Beanfields's portfolio includes a broad offering of nine flavors of gluten-free, non-GMO bean-based chips including Black Bean, Sour Cream and Onion, Firey Hot and Nacho flavors among others. Beanfields is currently distributed in over 7,000 outlets throughout North America.
This transaction has catapulted Boosh into one of the largest emerging markets plant-based food companies in the world.
Shares of Boosh Plant Based Foods trade in Canada as well as in the U.S. under the ticker symbol VGGIF as well as on the CSE under VEGI.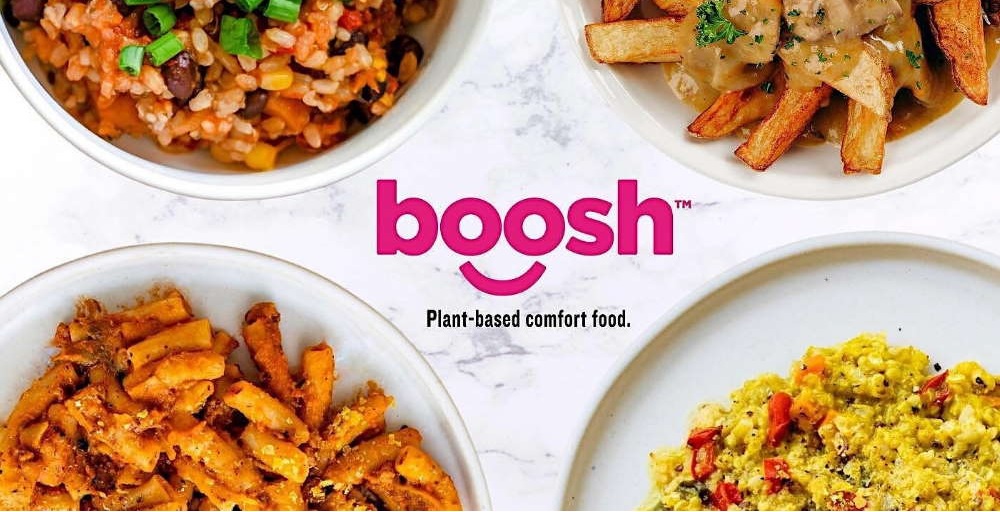 2. Beyond Meat (NASDAQ: BYND)
Beyond Meat is a leading plant-based meat company that provides a portfolio of plant-based options made from simple ingredients without GMOs, hormones, antibiotics or cholesterol. 
Founded in 2009, Beyond Meat products are designed to have the same taste and texture as animal-based meat while being better for people and the planet. 
Beyond Meat recently announced that it is significantly increasing the availability of its Beyond Chicken® Tenders at leading retail outlets across the country, including supermarkets, pharmacies and club stores. 
The company's products are available at approximately 130,000 retail and foodservice outlets in over 90 countries worldwide. 
Beyond Meat trades on the NASDAQ exchange under the ticker symbol BYND.
3. Komo Plant Based Foods (OTCQB:KOMOF) (CSE:YUM)
Komo Plant Based Foods is a premium plant-based food company that develops, manufactures and sells a variety of plant-based frozen meals.
Komo's products are sold direct-to-consumer through their eCommerce website and a distribution network of online and brick and mortar grocery, convenience and natural retailer channels. Komo's plant-based, ready-to-bake Lasagna was recently recognized by VegNews as a "Best New Vegan Product" winner at the 2022 Natural Products Expo West.
The company recently announced it has established a partnership with HLC Distributing, to provide cold storage solutions for its plant based frozen meals. HLC offers tailored distribution and storage solutions that support smaller scale manufacturers and markets as they grow.
Shares of Komo Plant Based Food trade under the ticker symbol KOMOF in the United States and under YUM in Canada.
4. Else Nutrition (OTCMKTS: BABYF) (CSE: BABY)
Else Nutrition is an Israel-based food and nutrition company focused on developing innovative plant-based food and nutrition products for infants, toddlers, children, and adults. The company provides a healthy alternative to dairy-base formulas. 
The company became the #1 Best Seller on Amazon in the Fall of 2020 in the New Baby & Toddler Formula Category and was a Nexty Award Finalist at Expo West 2022 in the Plant-Based lifestyle category
More recently the company announced the release of its plant-based Else Super Cereal for babies, furthering the brand's mission to provide families with sustainable, dairy-free alternatives of complete nutrition products for toddlers and kids. 
Else Nutrition trades in Canada under the ticker symbol BABYF and also the U.S. under BABYF.
5. Tattooed Chef (NASDAQ: TTCF) 
Tattooed Chef is a leading plant-based food company offering a broad range of innovative and sustainably sourced plant-based foods.
The company's signature products include ready-to-cook bowls, zucchini spirals, riced cauliflower, acai and smoothie bowls. Tattooed Chef's products are distributed to leading national retail food and club stores across the United States as well as on the Tattooed Chef's e-commerce site.
Tattooed Chef recently announced that it has commenced production of a new line of frozen, ready-to-eat Mexican food items. Said company Founder and CCO Sarah Galletti: "We are particularly enthusiastic about our expansion into new frozen product categories: burritos, quesadillas and Mexican entrees that include a variety of tasty plant-based meat alternatives and ingredient combinations, such as the Plant Based Chorizo and Egg Burrito, the Plant Based Al Pastor Quesadilla, and Plant Based Chicken Mole Enchiladas."
Shares of Tattooed Chef trade on the NASDAQ exchange under the ticker symbol TTCF.
Other Plant Based Stocks to Watch:
Cautionary Statements:
Green Stock News ("GSN") is not a financial advisory or advisor, investment advisor or broker-dealer and does not undertake any activities that would require such registration. The information contained herein is not intended to be used as the basis for investment decisions and should not be considered as investment advice or a recommendation, nor is the information an offer or solicitation to buy, hold or sell any security. GSN does not represent or warrant that the information posted is accurate, unbiased or complete and make no representations as to the completeness or timeless of the material provided. GSN receives fees for producing content on financial news and has been compensated to publish this content. Investors should consult with an investment advisor, tax and legal consultant before making any investment decisions. All materials are subject to change without notice.