Blockchain has quickly progressed over the last decade from an open-source technology to a major component in a growing number of industries, ranging from financial transactions to supply chain logistics, smart contracts, and much more.
In its simplest form, blockchain is a digitized ledger that records information in a decentralized location. This allows multiple parties to send data or payments without having to go through a third party. The term blockchain is used because each transaction is sorted into different blocks. The technology allows just one block to be added at a time and each block contains mathematical proof that guarantees it comes next in the sequence.
Because each block sits on the block that came before it, blockchain ledgers are considered to be more secure as parties are unable to alter the most recent block without tampering the mathematical formulas of the other blocks on the chain.
The potential integration of blockchain technology into new and existing industries is almost limitless. Because of this, a growing number of publicly traded companies are now moving forward on their individual plans to develop unique blockchain technologies ranging from mineral shipments to real estate contracts. Others have used funding to build large data centers and directly mine digital currencies.
Here is a look at five blockchain stocks to watch in 2022: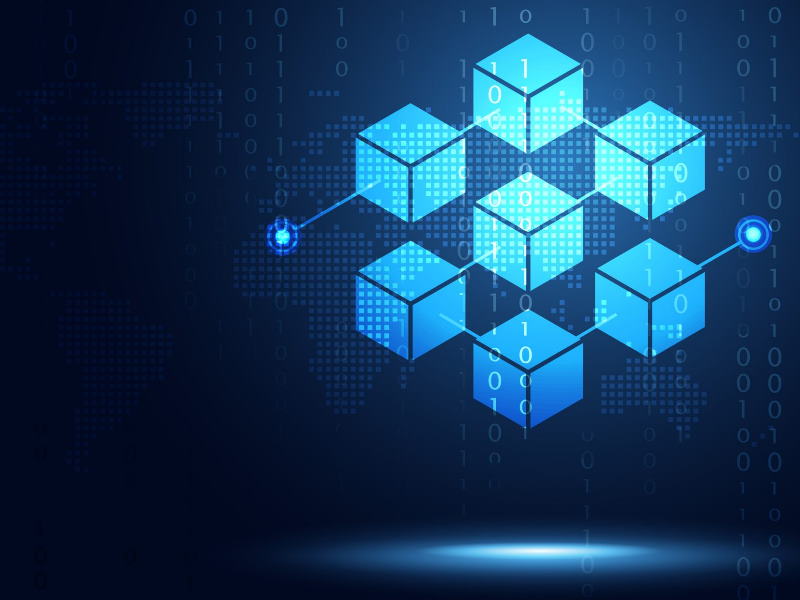 Mawson Infrastructure Group (NASDAQ: MIGI)
Mawson Infrastructure Group is a digital infrastructure provider with multiple operations throughout the United States and Australia. The company is focused on matching sustainable energy infrastructure with mobile data center solutions, enabling low-cost Bitcoin production and on-demand deployment of infrastructure assets.
The company recently reported that it had signed leases to develop a new 120 megawatt Bitcoin mining facility in Texas. The combined facility will consist of four facility sites located in close proximity to each other. Mawson says that it intends to utilize both carbon credits and renewable energy credits at the facility sites.
James Manning, CEO and Founder of Mawson, stated, "Texas is rapidly emerging as an exciting new Bitcoin mining province in the United States, and thus we are excited to have established an initial foothold in the state. In an environment where energy and energy infrastructure are in high demand, we are looking forward to beginning on-ground civil works near-term."
The company expects on-site development to commence in Q2 of 2022, with the facility becoming fully operational in Q4 of 2022.
Shares of Mawson Infrastructure can be found on the NASDAQ via ticker symbol MIGI.
MineHub Technologies (OTCMKTS: MHUBF)
MineHub Technologies is building a platform to promote digital trade by bringing security and responsibility to mining and metals supply chains. The company connects all parties involved in physical commodity transactions through a digitally integrated workflow that is secured by a global enterprise blockchain network.
The company recently announced that it had also added support for seaborne container-based transactions and shipments to its blockchain platform for supply chains.Newly added features include real-time visibility, shipment status, estimated time of arrival, and other crucial data points.
MineHub says that the newly added capabilities will free up operations time, increase supply chain resilience, and enhance risk control for financiers and insurers.
Shares of MineHub Technologies Inc trade on the OTCMKTS under the ticker MHUBF.
BANXA Holdings (OTCMKTS: BNXAF)
Banxa Holdings is powering large digital asset platforms by providing payment infrastructure and regulatory compliance across global markets. The company is headquartered in Melbourne, Australia, with European headquarters in Amsterdam.
Banxa recently announced the launch of its new product offering called Fiat to NFT Checkout in partnership with Atomic Hub. With the rapid rise of the NFT consumer market over the last 12 months, the company believes this new release will position Banxa to directly participate in the growing NFT market while also allowing its global partner network to access millions of end users looking to more easily purchase NFTs with credit cards.
Shares of BANAX Holdings trade in Canada as well as on the U.S. OTC under the ticker symbol BNXAF.
Intellabridge Technology (OTCMKTS: KASHF)
Intellabridge Technology is a financial technology company that provides digital banking solutions utilizing a hybrid of traditional finance with Web3 blockchain technologies.
Intellabridge announced recently that it plans to launch Kash 2.0 in mid- 2022, which will be an updated version of its product that is integrated with the Ethereum and Polygon blockchain networks. The Company also reported plans to develop a comprehensive DeFi asset management and exchange platform for institutional investors.
Kash says it has built a hybrid financial platform integrating traditional and blockchain finance infrastructure to create secure and simple gateways for users to access and use financial services like checking, investment, yield and credit solutions on Web3 decentralized financial markets.
Intellabridge Technology trades on the OTC under the ticker symbol KASHF.
Soluna Holdings (NASDAQ: SLNH)
Soluna Holdings develops green data centers that convert excess renewable energy into global computing resources. The company builds modular and scalable data centers for computing-intensive, batchable applications such as cryptocurrency mining, artificial intelligence and machine learning.
Soluna recently secured $35 million in project financing from Spring Lane Capital to develop green data centers that will be co-located with renewable energy assets.
The capital will help develop three behind-the-meter projects that will be designed to convert wasted renewable energy into clean computing services such as bitcoin mining and artificial intelligence.
Soluna Holdings is tradable in the United States on the NASDAQ under the ticker symbol SLNH.
Listed below are additional blockchain stocks to watch:
View the entire list of publicly traded blockchain companies here.
Cautionary Statements: Green Stock News ("GSN") is not a financial advisory or advisor, investment advisor or broker-dealer and does not undertake any activities that would require such registration. The information contained herein is not intended to be used as the basis for investment decisions and should not be considered as investment advice or a recommendation, nor is the information an offer or solicitation to buy, hold or sell any security. GSN does not represent or warrant that the information posted is accurate, unbiased or complete and make no representations as to the completeness or timeliness of the material provided. GSN receives fees for producing content on financial news and has been compensated to publish this content. Investors should consult with an investment advisor, tax and legal consultant before making any investment decisions. All materials are subject to change without notice.