UGE International Ltd. (TSXV: UGE) (OTCQB: UGEIF) (the "Company" or "UGE"), a leader in commercial and community solar, announces milestones and business updates for the second quarter ending June 30, 2023.
Backlog Approaches 100MW Annual Growth Goal
In the second quarter, UGE's project backlog (stages 3.1-5) increased 14% to 356MW from 313MW at the end of the first quarter. Since the start of the year, the Company's backlog has increased by 96MW, marking near-achievement of its 2023 annual goal to add 100MW to its backlog. UGE anticipates achieving and exceeding this goal during the third quarter, far ahead of schedule. The Company's stage 3.0 development pipeline, which represents projects with site control secured but in earlier stages of development, also grew by 27% in Q2 to 605MW. As of June 30, 2023, UGE has a pre-development pipeline (stages 1 and 2) of over 2 gigawatts, as well.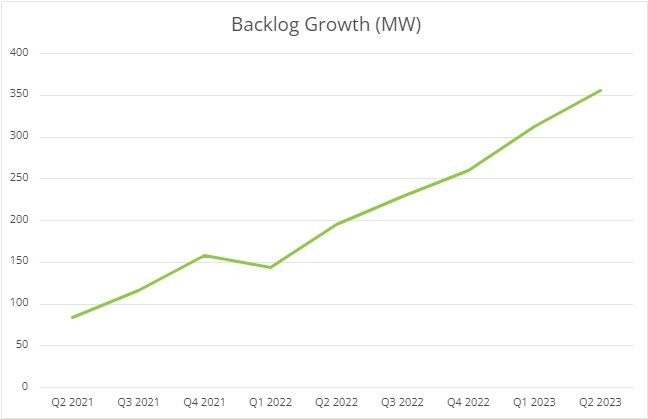 Projects Totaling 3.2MW Reach Notice to Proceed (NTP)
During the quarter, UGE achieved the NTP milestone for two projects totaling 3.2MW as the projects prepare for construction. The Company has now reached NTP on 13.2MW of projects in 2023. The Notice to Proceed milestone indicates that financing for the project has closed and all necessary permits and interconnection approvals for the project are in place.
One of the projects to reach NTP is UGE's second 2.7MW ground-mount solar farm in Oakland, Maryland; the first of the two projects reached NTP in March. After years of running a pilot community solar program, Maryland instated a permanent program this May, making it the 23rd U.S. state to implement a shared-access community solar framework without limitation to accessibility.
The other project to reach NTP during the quarter was a 548kW rooftop project, to be built atop a shopping mall on Staten Island, New York. This will be the third community solar project UGE owns and operates on Staten Island.
Both new projects will join UGE's Low-to-Moderate Income (LMI) program, meaning that at least 30% of the energy generated by the project will be reserved for LMI households. Strengthening renewable energy equity is one of UGE's guiding goals; the Company's stated target is for more than 25% of the off-take from its operational portfolio to serve LMI households by 2026.
Deployment Progresses, Rooftop Projects Near Completion
During the quarter, the Company made significant progress on the construction of two rooftop projects totaling 1.8MW. One of the projects, UGE's second in the town of Peekskill, New York, has all major equipment installed and is on track to reach commercial operation at the beginning of August. Another, a 1MW project at Foxcroft Academy in Maine, is scheduled just to turn on just a few weeks later at the end of August. Further deployment progress was made across an additional five projects - four ground-mounts and one rooftop - totaling 11.5MW.
Construction Complete on 1MW Ground-Mount
UGE completed its 1MW community solar project in Norway, Maine. Pending the utility installing the final meter required for interconnection, the project will reach official commercial operation imminently. The project, built atop a former landfill, will provide cheaper, cleaner electricity to the municipality and local small businesses in the area.
UGE Projects Stages 3.1-6*
As-of June 30, 2023
*Stage 3.1: Site secured, material feasibility determined
Stage 6: Operational
Strategic Plan Released
The Company shared its corporate Strategic Plan for 2023-2026, presenting UGE's Strategic Pillars, Corporate Goals, and how the Company will measure its success against said goals. The Strategic Plan is available here.
About UGE
UGE develops, owns, and operates commercial and community solar and battery storage projects. Our distributed energy solutions deliver cheaper, cleaner energy to businesses and consumers with no upfront cost. With over 500MW of global experience, we work daily to power a more sustainable world. Visit us at www.ugei.com. For more information, contact UGE:
Nick Blitterswyk - This email address is being protected from spambots. You need JavaScript enabled to view it. or +1 917 720 5685.
Neither the Exchange nor its Regulation Services Provider (as that term is defined in the policies of the Exchange) accepts responsibility for the adequacy or accuracy of this news release.
Forward-Looking Statements
Certain information set forth in this news release may contain forward-looking statements that involve substantial known and unknown risks and uncertainties, certain of which are beyond the control of the Company. Forward-looking statements are frequently characterized by words such as "plan", "continue", "expect", "project", "intend", "believe", "anticipate", "estimate", "may", "will", "potential", "proposed" and other similar words, or statements that certain events or conditions "may" or "will" occur. These statements are only predictions. Readers are cautioned that the assumptions used in the preparation of such information, although considered reasonable at the time of preparation, may prove to be imprecise and, as such, undue reliance should not be placed on forward-looking statements. Forward-looking statements include, but are not limited to, the anticipated use of proceeds, and the listing of the Green Debentures on the TSX Venture Exchange. The Company assumes no obligation to update forward-looking statements, whether as a result of new information, future events or otherwise, except as required by applicable law.