GreenPower Motor Company Inc. (NASDAQ: GP) (TSXV: GPV) ("GreenPower"), a leading manufacturer and distributor of purpose-built, all-electric, zero-emission medium and heavy-duty vehicles serving the cargo and delivery market, shuttle and transit space and school bus sector, today announced the company received an order for 41 GreenPower all-electric, purpose-built Type D BEAST and Type A Nano BEAST school buses totaling $15 million from the state of West Virginia. As part of the order, GreenPower received a $3 million deposit from the state per the agreement with the company to manufacture zero-emission, all-electric school buses in West Virginia.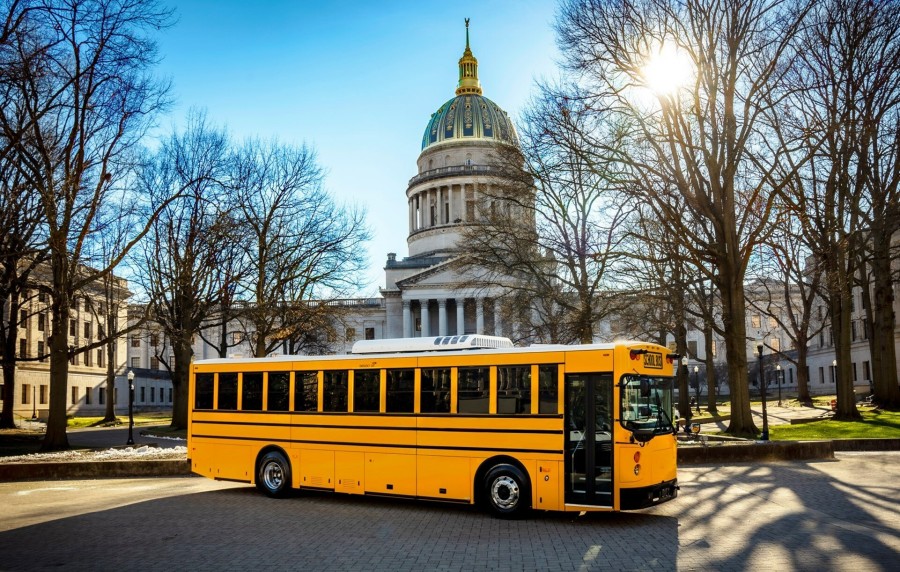 "Since we first announced our intent to manufacture in West Virginia, we've made tremendous progress on our mission to be the leading manufacturer of purpose-built, all-electric school buses," said Brendan Riley, President and Director at GreenPower. "Today marks another milestone on that journey through our partnership with the state of West Virginia. We have been able to reach this point because of the strong commitment to GreenPower and an all-of-the-above energy policy by Governor Jim Justice, his cabinet and the leadership of the state legislature. We look forward to continue providing a positive impact on West Virginia's economy with clean energy jobs."
Since taking possession of the West Virginia manufacturing facility in August of 2022, GreenPower has been performing final assembly and inspection on EV Star Cab & Chassis in the plant as part of its supply agreement with Workhouse Group. Today's announcement marks GreenPower's shift in production at the South Charleston facility to all-electric school buses. Beginning in the next few weeks, GreenPower's East Coast manufacturing facility will first begin production of its Nano BEAST, the only purpose-built, all-electric, zero-emission Type A school bus on the market, to meet the demand of its customers. The company will then transition to the production of the Type D BEAST at the facility.
"The fact that our workers will be manufacturing the school buses being purchased by the state that their kids and grandkids will be riding to and from school on brings me great pride," Riley commented, adding that the ride will be "the most safe and healthy transportation available to them" and financially beneficial to the school districts. Operating and maintenance costs for a GreenPower all-electric school bus is believed to be 70% to 80% less than a conventional diesel school bus. The West Virginia legislature has also passed a new law providing an additional 15% to school districts under the state's School Foundation Allowance for miles driven in a GreenPower all-electric school bus manufactured in West Virginia.
Riley said that the recent appointment of John McDavid as production manager in West Virginia sets the stage for the ramp-up in production at the facility. The team will immediately increase the hiring activities for the production facility. Interested applicants should visit the "Careers" section at www.GreenPowerMotor.com under the "About Us" tab.
"As we migrate to the production of school buses in the West Virginia facility, there will be a need to increase the number of employees from the core group that has been working here since last year," Riley continued. He noted that about 65 employees will be necessary by October and that GreenPower is on track to meet the 200 employee goal by the end of 2024. Riley also noted that GreenPower intends to have the employee training programs conducted under its partnership with BridgeValley Community & Technical College.
West Virginia's purchase of the GreenPower school buses comes on the heels of the pilot project directed by Governor Justice last June. For the past seven months, 15 school districts have deployed either the BEAST or Nano BEAST in their West Virginia county school system. The program, which kicked off at the beginning of the school year, has provided valuable feedback to GreenPower and has given the school districts the opportunity to evaluate the performance of the buses in various geographies – on rural roads, in mountainous conditions and in colder temperatures. Next week, the fifth round of the pilot program will deploy to finish out the school year.
Contacts:
Mark Nestlen
VP of Business Development and Strategy
This email address is being protected from spambots. You need JavaScript enabled to view it.
Brendan Riley
President and Director
This email address is being protected from spambots. You need JavaScript enabled to view it.
Allie Potter
Skyya PR for GreenPower
(218) 766-8856
This email address is being protected from spambots. You need JavaScript enabled to view it.
About GreenPower Motor Company Inc.
GreenPower designs, builds and distributes a full suite of high-floor and low-floor all-electric medium and heavy-duty vehicles, including transit buses, school buses, shuttles, cargo van and a cab and chassis. GreenPower employs a clean-sheet design to manufacture all-electric vehicles that are purpose built to be battery powered with zero emissions while integrating global suppliers for key components. This OEM platform allows GreenPower to meet the specifications of various operators while providing standard parts for ease of maintenance and accessibility for warranty requirements. GreenPower was founded in Vancouver, Canada with primary operational facilities in southern California. Listed on the Toronto exchange since November 2015, GreenPower completed its U.S. IPO and NASDAQ listing in August 2020. For further information go to www.greenpowermotor.com
Forward-Looking Statements
This document contains forward-looking statements relating to, among other things, GreenPower's business and operations and the environment in which it operates, which are based on GreenPower's operations, estimates, forecasts and projections. Forward-looking statements are not based on historical facts, but rather on current expectations and projections about future events, and are therefore subject to risks and uncertainties which could cause actual results to differ materially from the future results expressed or implied by the forward-looking statements. These statements generally can be identified by the use of forward-looking words such as "upon", "may", "should", "will", "could", "intend", "estimate", "plan", "anticipate", "expect", "believe" or "continue", or the negative thereof or similar variations. These statements are not guarantees of future performance and involve risks and uncertainties that are difficult to predict. A number of important factors including those set forth in other public filings (filed under the Company's profile on www.sedar.com) could cause actual outcomes and results to differ materially from those expressed in these forward-looking statements. Consequently, readers should not place any undue reliance on such forward-looking statements. In addition, these forward-looking statements relate to the date on which they are made. GreenPower disclaims any intention or obligation to update or revise any forward-looking statements whether as a result of new information, future events or otherwise.
Neither the TSX Venture Exchange nor its Regulation Services Provider (as that term is defined in the policies of the TSX Venture Exchange) accepts responsibility for the adequacy or accuracy of this release. All amounts are in US dollars ©2023 GreenPower Motor Company Inc. All rights reserved.